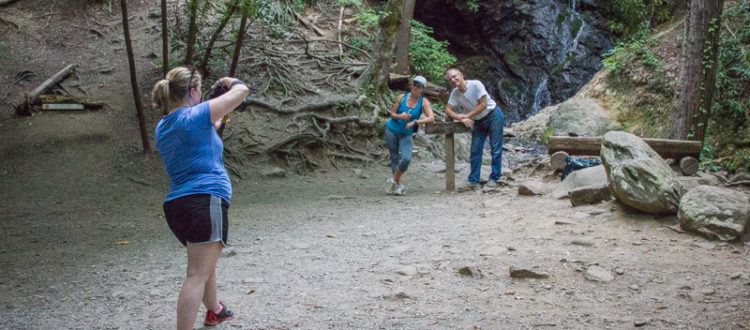 Hike the Smokies: Cataract Falls
Got an hour to kill?  Then you've got time for a hike!  And one of the best things about Cataract Falls is its convenient location.  The trail starts right behind the Sugarlands Visitor Center.  This little waterfall gets good reviews by travelers on Trip Advisor, with the majority of reviewers giving it 4 or 5 stars.
This video will take you from the Visitor Center all the way to the waterfall.  It's nothing like being there in person, but it will give you a glimpse of what to expect.
Drive into the Great Smoky Mountains National Park at the Gatlinburg entrance.  About two miles down the road, the Visitor Center is on your right.  There's plenty of parking.  Walk up to the Visitor Center and on the left side are public restrooms, park information boards and vending machines.  Walk through that pavillion and follow the sidewalk to the signs that say Fighting Creek Nature Trail and Cataract Falls.
A few tips:
Cataract Falls is 45 feet high but the water flow is a single stream.  This is not Niagara Falls.  Water flow will be lighter during drier months or drought.
The trail is crushed stone and packed dirt, so strollers are very manageable most of the way.
Because it's a shorter hike and the trail bed is well-groomed, it's excellent for young and old alike.
There are a couple of places with exposed tree roots in the trail–watch your step.
You'll encounter a small stairway (about 12 steps) on the trail.  Handrails on both sides.
You'll occasionally hear cars in the distance on the main road.
There's a really cool old tree next to the foot bridge.  Great location for taking pictures!
Your cell phone may have service here–my Verizon service worked.  Most of the park, you have no cell signal.