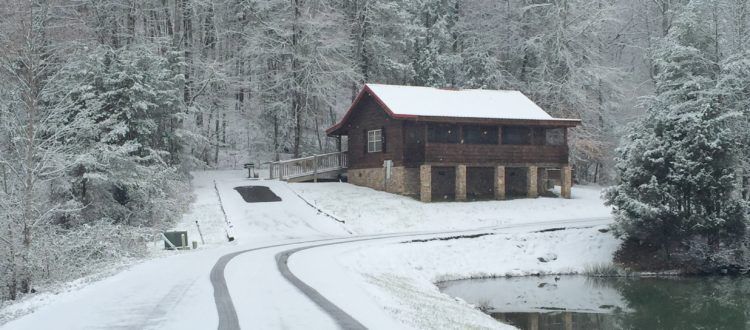 Who would come to the Smokies in the dead of winter?
Have you experienced the Smoky Mountains in the winter?  Most people prefer to take vacations when it's nice outside.  So no surprise when there are traffic jams on the parkway and 30 minute wait times to get a table in July.
If you want to be a bit different…a bit adventurous, read on.  Winter in the Smokies is a completely different experience.  Here are our top 10 reasons why you should join this club of savvy, contrarian travelers:
You might get lucky and see snow!  Usually the higher elevations of the park have a coat of snow and it is gorgeous to take in every day.  Plus the mountains are totally different looking in the winter.
Hands down, you get the best deals of the year.  Rental rates are at their lowest in January and February.
Hot tubs are plain amazing in the winter.  Steam billows off the water–very inviting.
There's nothing quite like the warmth and glow of a fireplace in a cabin.  You don't get that in July.
Many restaurants have winter specials.  Alamo Steakhouse has regularly offered Buy One, Get One Lunch for several weeks each winter.
Be careful about speeding.  It's easy to drive faster on the parkway when there's barely any traffic.
In the winter, skies can be crystal blue on sunny days.  If weather permits, drive up to Newfound Gap (5,046 ft) and take stunning photos of the mountain range.
You don't have to be here on Valentine's Day to enjoy a romantic getaway.  Pick a favorite restaurant, take an evening walk in the city, then watch a movie at the cabin.  Crowds are light and no waiting for a table.
Winterfest continues until the last day of February.  Every night Gatlinburg, Pigeon Forge and Sevierville are filled with colorful lights.
Winter clearance sales at Tanger Outlets and other local retailers.  Need we say more?
Hopefully these 10 reasons will jumpstart you to consider a winter vacation someday.  In a future blog post, I'll share with you some tips on booking a cabin in the winter.